Explore Puerto Galera's best dive sites amid the world-famous coral reefs bursting with fish of all shapes and size
Come and dive with Reef Haven Dive Center
Your one-stop dive center in Puerto Galera for all things diving related
Located just a stone throw away from Puerto Galera's best dive sites, we go above and beyond (either by shore or boat, mostly) to give you the diving experience of a lifetime.
We welcome divers and non-divers from all walks of life. So whether you're a beginner or seasoned diver, a wreck enthusiast or a drift diver, our dive center in Puerto Galera has everything you need to make your dive safe and enjoyable.
Our expertise comes from years of diving know-how and an unfaltering commitment to protecting Puerto Galera's unrivaled reef ecosystem.
With Reef Haven, you'll pick up a bucketload of memories and useful dive habits that you can take with you wherever go in the world.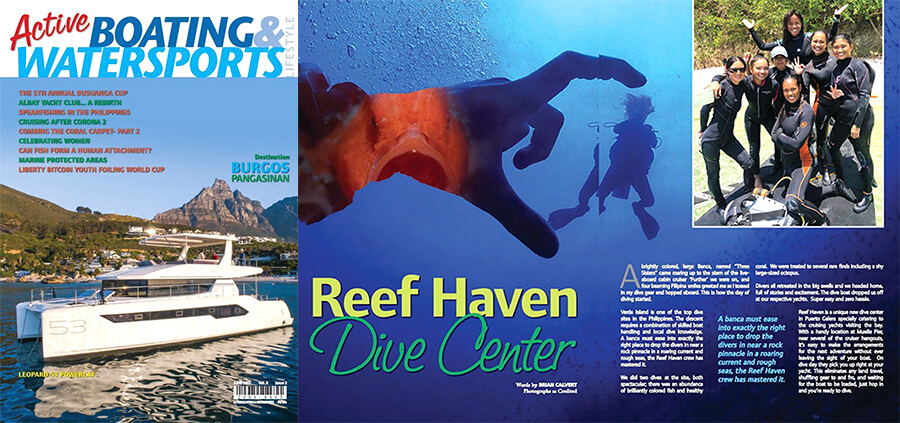 We made it to the June 2021 edition of Active Boating & Watersports Lifestyle!
Reef Haven is a unique new dive center in Puerto Galera specially catering to the cruising yachts visiting the bay.
She combines her conviviality with a passion for diving resulting in a contagious standard shared by her entire staff – Brian Calvert
We seek adventure
where others only dream
Living up the Puerto Galera's diving hype
Scuba diving in Puerto Galera – An out-of-this-world diving adventure
With the coastline wrapped with palm trees and the sun-kissed golden beaches, Puerto Galera is a hard-to-resist diving destination that bedazzles visitors with its natural beauty.
Just beneath Puerto Galera's warm, tropical waters lies an abundance of world-class dive sites. From gorgeous coral reef formations to exotic fish, scuba diving in Puerto Galera is truly spectacular. So much so, that it's been a UNESCO Marine Reserve since 1977.
Don't just take our word for it