Immerse yourself in the beauty of Puerto Galera, where passion, safety, and simplicity converge to create the ultimate diving experience.
Come and dive with Reef Haven Dive Center
Your one-stop dive center in Puerto Galera for all things diving related
Located just a stone throw away from Puerto Galera's best dive sites, we go above and beyond (either by shore or boat, mostly) to give you the diving experience of a lifetime.
We welcome divers and non-divers from all walks of life. So whether you're a beginner or seasoned diver, a wreck enthusiast or a drift diver, our dive center in Puerto Galera has everything you need to make your dive safe and enjoyable.
Our expertise comes from years of diving know-how and an unfaltering commitment to protecting Puerto Galera's unrivaled reef ecosystem.
With Reef Haven, you'll pick up a bucketload of memories and useful dive habits that you can take with you wherever go in the world.
Scuba diving is an exhilarating adventure that allows individuals to explore the mesmerizing underwater world. Whether you are a beginner or an experienced diver, one factor that can significantly enhance
Read More »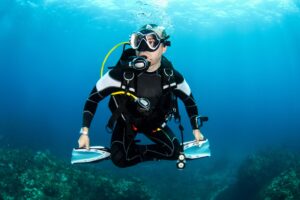 Diving is a fascinating activity that allows us to explore the wonders of the underwater world. Whether you are a beginner or an experienced diver, buoyancy control is one essential
Read More »
Underwater photography offers a captivating glimpse into the hidden wonders of the aquatic world. Whether you're exploring coral reefs, diving with marine life, or capturing the tranquility of an underwater
Read More »
We seek adventure
where others only dream
Living up the Puerto Galera's diving hype
Scuba diving in Puerto Galera – An out-of-this-world diving adventure
With the coastline wrapped with palm trees and the sun-kissed golden beaches, Puerto Galera is a hard-to-resist diving destination that bedazzles visitors with its natural beauty.
Just beneath Puerto Galera's warm, tropical waters lies an abundance of world-class dive sites. From gorgeous coral reef formations to exotic fish, scuba diving in Puerto Galera is truly spectacular. So much so, that it's been a UNESCO Marine Reserve since 1977.
Don't just take our word for it